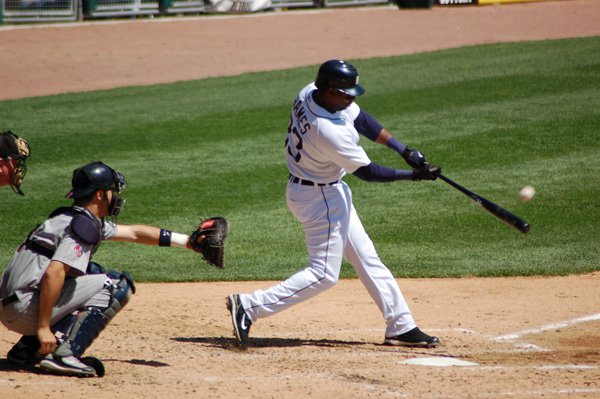 The position of catcher is often a tricky one for fantasy baseball owners. Often, the position is left until the later rounds in the fantasy draft and owners hope to simply pick up a catcher who will not hurt their fantasy roster too badly. One thing that can easily make or break your team is picking up a fantasy baseball sleeper for your catcher. When waiting until the later rounds in your draft, you will be hoping to nab yourself a sleeper pick, essentially a player who will provide better statistics relative to those players selected ahead of him. The key is to find players who slip past the other owners in your league and fall right into your hands, helping to deliver you a fantasy baseball victory.
Some catchers to consider as potential sleepers for the 2012 season:
Nick Hundley (SD) –
Hundley has settled into a pattern of amassing less than 300AB, under 10 HR and 40 or less RBI. Things most likely will not change in 2012. However, multiple injuries to his wrist, hand and elbow have essentially taken the bat out of his hands the past 4 seasons. He surged in August and September last year and leaves hope that he can produce over a full healthy season. He has 20 HR power and may challenge that benchmark in 2012.
Chris Iannetta (LAA) –
I know what you are thinking...if a hitter doesn't produce in Coors Field, what can we expect from him now that he no longer calls that park home? With a trade to the Angels, Iannetta should finally get a shot at more playing time in 2012. Hitting in one of the better line ups in the AL won't hurt either. Any offense featuring Pujols is a potentially explosive one. Add to this the fact that Iannetta replaces one of the lightest-hitting catchers (Jeff Mathis) in all MLB, and Iannetta is primed to get a good opportunity to shine with his new club.
Ramon Hernandez (COL) –
It's been awhile since Hernandez had any fantasy clout (the 2006 season, to be exact) but with a move to Coors Field, anything is possible. He hasn't cracked the 315 AB mark in 3 straight seasons but with the change of scenery, if he gets to 400+AB, he could net 15+ HR and 60+ RBI. That may put him ahead of several other late-round catchers and giving him some sleeper potential to boot.
Buster Posey (SF) –
When a player starts his season a third of the way into the campaign, wins the Rookie of the Year Award and hits cleanup for the World Series champion, he is something special. When that player is a catcher, he's even better. A collision at the plate caused him to miss the majority of 2011 due to injury. That may just keep enough owners away from drafting him early and let him slip right into your hands. A healthy Posey gives you a good batting average and the potential to hit 20 HR.
Kurt Suzuki (OAK) –
Suzuki's fantasy value stemmed largely from his ability to deliver RBI while hitting in the middle of the Athletics batting order. In 2011, he was dropped down in the line up and saw his RBI total drop from 71 in 2010 to 44 last season. Hideki Matsui and Josh Willingham saw the lion's share of the time hitting in the middle of the order in 2011. With both no longer in Oakland, Suzuki projects as the team's cleanup hitter once again. Expect a nice rise in RBI if this happens.
Geovany Soto (CHC) –
Soto hit the same number of HR (17) last season as he did in 2010, however it took him 100 more AB to do it. He also saw his BA plummet to a fantasy roster-killing .228. He seems to have fallen into the pattern of alternating good and bad statistical seasons. Hope for the trend to continue and for Soto to rebound in 2012.
Salvador Perez (KC) -
An imposing figure both behind the plate and at it (6'3", 230lbs), Perez has shown some pop in his bat in the minor leagues, including opposite field power. While no one expects him to sustain the .362 BaBIP of 2011 (in a small sample size of 148 AB), he showed the ability to hit the ball with some authority for the Royals last season. Although a bit of a free swinger, Perez is still figuring out his game at 21 years of age and may surprise a few people in 2012.
Remember, it's not where you draft your fantasy baseball catcher in 2012, it's how well he performs relative to his draft position. If you nab yourself a gem in the late rounds who puts up first round numbers, you have what it takes to start winning your league. Good luck in 2012!