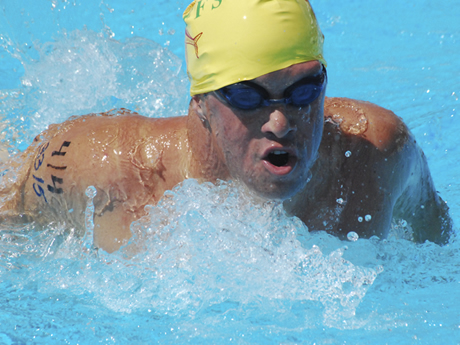 Being different never kept Andy Miyares out of the pool; in fact, it's what brought him to it.
Miyares was born with Down syndrome. At a very young age, his mother Ana noticed he struggled with muscle control. The pool, she thought, would be a great environment for him to strengthen his body and gain more control. She started Andy off in the water at nine months; he progressed to competitive swimming by the age of six.
Since then, Andy's swimming career has brought him to Special Olympics and competitions around the world. He has had experiences his mother could have never imagined when she first put him in the water.
More: The Benefits of Swimming
Confidence
His first swim meet at age six gave Ana a view of how swimming had already begun to change her son. Not only had he gained the strength and control she had hoped for, but something more. "I saw him on the block for the first time beside all able-bodied swimmers with the confidence he still has," she says. Ana knew then that water was where Andy belonged.
That first year of competitive swimming gave Andy great confidence, but also began to show his character and drive. That drive first brought Andy to Special Olympics at the age of eight. The training, competition and camaraderie Special Olympics offers its athletes proved to be a perfect fit for Andy. After being involved with Special Olympics for 21 years, Andy says the program is his life, and his mother agrees, as it has become their family's life too.
New Challenges
Andy started challenging himself in competitive swimming right away with his favorite stroke, the butterfly. As any swimmer knows, butterfly is a truly challenging stroke; just watching someone else do it can be tiring.
More: Keep the Rhythm for a Smoother Butterfly
Ana says Andy mastered the stroke at six years old. Thanks to his brother, who was a flier, it's always been his favorite. "He always wants to be like his brothers and do everything like them," Ana says. Not just following in his brother's footsteps, but surpassing them, Andy became a world record holder in the 100-meter and 200-meter butterfly with the Down Syndrome International Swimming Organisation.
Searching for a new challenge, Andy recently set his eyes toward open-water competition, a race that presented challenges for his parents, too. "The day he told us he was swimming the Tiburon mile all I could think about was all the sharks in that area," Ana says.
Andy's confidence was unwavering; he excelled in the race and was ranked among the top 10 by U.S. Masters Swimming in the mile. Andy is the only swimmer with an intellectual disability to ever be ranked in a top 10 by the U.S. Masters.
More: Special Olympics Athletes Dive Into Open-Water Swimming
Training
How does a boy who struggled with muscle control become a world record holder? Just like anyone else, with hours of training every day and dedication to a sport he loves. These days, Andy does swim workouts for two hours a day, six days a week and does conditioning for one hour, three times a week.
When competition time comes around, Andy switches over to two-a-days, six days a week.
Andy has always tried to swim at a level beyond all those he trains with, his mother explained. "He has earned the respect of his teammates because of the way he always tries his very, very best."
More: 10 Swimming Tips for Beginners
Life Outside the Pool
In addition to all the accolades, swimming has helped Andy grow into the man he is today. Ana says that swimming has made her son more social for one. Andy also uses the determination and strength he gets from swimming to attack-and succeed at-anything, his mother says, including being a Special Olympics Global Messenger.
According to Special Olympics, "The Global Messenger Program is designed to teach Special Olympics athletes how to speak in public in front of a variety of audiences." In this role, Andy has already had the chance to speak at state and international events.
"Andy doesn't know what the word 'can't' means," Ana says. That is exemplified by all the Andy has on his plate. In addition to being a Special Olympics athlete, Global Messenger and public speaker Andy is a USA Swimming certified coach, training to be a USA Swimming Official and a Best Buddies ambassador, speaking on their behalf.
More: Special Olympics Athlete Karen Dickerson on Running
More Than Imaginable
Andy's story is an inspiration to people around the world, but also to those closest to him. "As a family we admire Andy and in return he loves us all unconditionally in a way that we are blessed beyond anyone's imagination," Ana says.
As a new mother of a disabled baby, with a myriad of feelings and emotions, Ana prayed in those first days that she would have a full 18 years with her son so she could leave him as young man ready to face the world. What she got back from Andy and Special Olympics was so much more than that. Andy's journey with Special Olympics has been "the greatest fairy tale life any mom could ever dream for her baby, special needs or not," Ana says.
Help Special Olympics reach out to one more athlete: Donate.
More: One Runner's Journey to Self-Discovery
Search for a swimming event.