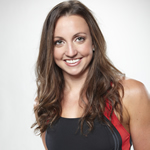 Born in Freehold Borough, New Jersey, Rebecca Soni (Reb), grew up on the balance beam and bars. Gymnastics, Reb's sport of choice, took a back seat when she joined her older sister's (Rita) swimming club because it was a better than having to wait for her sister to finish class. So at age 10, Rebecca dived with no idea she would make a splash in the Olympic world.
More: The Science Behind an Olympic Swimmer
2008 was Rebecca's year. She won the Gold Medal and set a World Record in the 200m breaststroke at the Beijing Olympic Games, defeating the Australian favorite, Leisel Jones. She also brought home two Silver Medals in the 100m breaststroke and the 4x100m medley relay.
Ending collegiate career by USC in 2009, she swept both breaststroke events and broke another record. The 6-time NCAA Champion continued to win multiple events and set more records.
As Rebecca trains towards the 2012 London Olympic Games, she sets her eyes on the Gold in the 100m, 200m breaststroke and the Medley Relay.
More: Get Into Shape With These Basics of Swim Training
From nutrition and training, to family and friends, Rebecca set aside time to share her story and what it's like to be an Olympian.
How did you get involved with swimming?
I started swimming when I was 10 years old because my older sister was a swimmer and she loved it. My parents put us both in the same sport. In the beginning, I didn't even place in the top 40 at my first nationals, but that only fueled my passion to get better.
Did you ever think you would be an Olympic Swimmer when you were a child?
No, it always seemed out of reach and I never thought I'd make it this far. I wasn't the best when I started, but I kept at it and eventually I improved.
More: Master the Swim Challenge
What was it about swimming that you loved?
I love the training and coming out of a good workout feeling accomplished.
More: Ask the Experts: Swimming Tips
What was it like when you won your Gold medal (and set the world record) in the Beijing Olympic Games?
I was so ecstatic I couldn't even believe it, I felt like I was on top of the world in my sport.
As a competitive swimmer you have a very busy schedule, how do you balance life and training?
In college, it was much more structured as I had to fit swimming, classes, and homework all into one day. Now I have more flexibility and can have more fun with it. It's also very important for me to schedule personal time so I don't get burned out. I usually take time for myself in the evenings. I spend time with my family and friends to relax and focus on something other than swimming to give myself a break.
How important is it for you to have a training schedule?
Being able to commit to swimming is my first priority. I usually swim at least two hours a day and incorporate cross-training workouts into my routine a few times a week. Being consistent and keeping a regimented schedule is necessary for me to stay focused.
More: How to Improve Your Swim
What is a typical day for you?
I wake up at 5:30 a.m. every day to walk my dog, Kody, and sit down for breakfast. I go off to the pool around 7:00 a.m. for a two-hour swim session, and eat a second breakfast before I hit the weight room. I also do Pilates, RockITbody, and Yogaworks a few times a week for cross training. After a day of training, I'll cook dinner with my family and friends, and relax at night.
How do you recover from a workout?
After intense workouts, I make sure to get plenty of rest and sleep. I sleep eight hours every night. I'll do plenty of stretching also to make sure my muscles don't get too tight.
How do you fuel your body?
Nutrition is extremely important to me and is crucial for my training. I always eat a good breakfast, usually Kellogg's Raisin Bran? or Kellogg's Special K? cereals. Eating breakfast gives me a great start to the day and gives me the potential I need to perform at my best. Throughout the day, I stick to a healthy diet making sure to incorporate lots of fruits and vegetables into meals.
More: The Best Natural Fuel for Athletes
What is your favorite recovery fuel?
I snack on cereal throughout the day to recover; it gives me a good balance of carbs and fiber.
How do you stay on top of your nutrition intake?
I spend time with my coach discussing the proper nutrition for my training, and I have to be very regimented about it on my own as well. I do my own grocery shopping and keep a very detailed list of everything I need for the week to make sure I'm getting all the proper fuel.
More: Sports Nutrition Made Easy
What tips can you share with a newbie swimmer?
I would tell them to stick with it and not get frustrated if the technique and speed don't come right away. Swimming is a very technical sport, so it takes time and lots of practice to perfect it. It's worth sticking with it though; it's one of the best full-body workouts you can do.
How has your journey to the Olympics been so far?
It's been a fun road to the Olympics so far, I've been working with great sponsors like Kellogg's and have been getting to travel to so many different places and meet great people, especially the fans. I hope everyone will be cheering for Team USA during the Games.